Show time ... it's on again!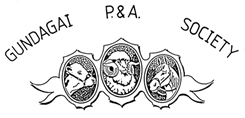 The President and Committee of the Gundagai P&A Society would like to thank our many sponsors, big and small, of the 2015 Gundagai Show. We would also like to thank the advertisers, whose contributions each year make this schedule possible.
See you at the Show!
President: Dan Lindley
Secretary: Ian Clingan
FIND OUT ABOUT THIS YEAR'S SPECIAL FEATURE EVENTS …
Bullock team and Majura the Magician ….. see more details below.
"OFF THE TRACK" HORSE EVENT FOR 2015 SHOW
The Horse Committee has decided to hold an "OFF THE TRACK" event at the Gundagai Show on Saturday 21 February, 2015. The event is for horses that have previously raced and are now pursuing other events. Entry fee: $10
1st : rug set and be eligible to compete in State Final of "Off the Track" Series.
2nd : $30
3rd : $20
SCHEDULE details
(2015 sections will be added as they come to hand)
Horse Schedule 2014
Light Horse 2014
Junior Schedule 2014
Regulations Judges 2014
Section B – Cattle 2014
Section GP-School Parader 2014
Section H-Sheep Dog Trials 2014
Section I-Merino Sheep 2014
Section J-Australian British Sheep 2014
Section M-Poultry 2014
Section O-Farm Produce 2014
Section P-Vegies 2014
Section Q-Fruit 2014
Section R-Flowers 2014
Section S – Jams & Jellies 2014
Section T – Food & Cookery 2014
Section U – Needlework 2014
Section UU-Handicrafts 2014
Section V-Photography 2014
Section W-Wool 2014
Section X-Art 2014
Section Y-Caged Birds 2014
Section Z-Home Brew 2014
Showmembers intro 2014
Exhibitors Entry Form
Section Contact details
Cattle: Leanne McDonnell ph.6944 2969 mob.0427 455 100
Sheep: Joe Scott 0429 220 492
Show jumping: Kathy Blay/Jim Scobie ph.6944 1725
Horses: Jim Scobie 0407 560 998
Stabling: Alana & Dan McDonnell ph.6944 9274 mob.0429 449 274
Team Penning: Dan Lindley ph.6944 9289 mob.0419 626 641
Grounds space: George Elliott ph 0437 441 332
Horse event judges:
Fran Cleland
Jennifer Smith
Marilyn Marr
SPECIAL FEATURE: bullock team
Ron McKinnon's bullock team is one of only a handful of working teams left in Australia. They've become quite well known and much in demand as he has taken them to shows all over NSW and Victoria, displaying the old Australian art of bullock driving.
SPECIAL FEATURE: Majura the Magician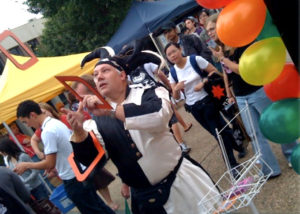 Another treat this year will be the amazing performances of Majura the Magician. He has performed on TV, in theatres and at Floriade and will provide fun for the whole family!
Contact details
Gundagai Pastoral & Agricultural Society
c/- 17 Springflat Drive, Gundagai NSW 2722
Dan Lindley
02 6944 9289
mob 0419 626 641
Ian Clingan
Ph 02 6944 2232
(mob 0458 009 838)
Email: info@gundagaishow.com.au
Gate admission
Prices shown include GST
1. Adults: $10
2. Each vehicle: $2
3. Pensioners: $3
4. School children under 15yrs: FREE
5. Car Reservations:
Front row $7, second row $4, third row $3
Showground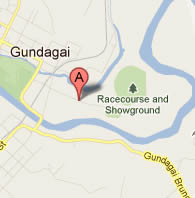 OI Bell Drive Gundagai (view Google Map)
Download a map of the Gundagai showground (pdf)