Show time … be part of it!
The President and Committee of the Gundagai P&A Society thank the many sponsors and advertisers of the Gundagai Show. Without these contributions and the hard working Show Committee, the show as we know it, would not go on.
This year's program kicks off on Friday with mainly show jumping.
Saturday will be a day of fun filled family activities comprising Unchained BMX will perform 3 x themed comedy shows timed to start at approx. 11.00 am, 12.30 pm and 2.00pm. The show will include 4 riders, 1 MC, and 1 team manager, the demonstration will be performed on their portable trailer box jump. Each show will go for approximately 20mins and will have poster signings and a meet and greet with the team afterwards.
There will also be the usual events such as Cattle, Horses, Poultry, Pavilion Exhibits, Yard dogs and Sheep Dog Trials, Birds, Animal Nursery, Magician, Face painting, Cartoon portraits, Puppet theatre (roving), Stalls, Sideshow alleys and Show Bags.
Also, for the first time in many years show dogs will be back. Be sure to visit them.
The Annual Show showcases our district and beyond, and we continue to see the very best agricultural exhibits and Community displays on offer.
We are proud of our Annual Show and Community Spirit it generates. The show would not survive without the local community and the generous support from our Members, Sponsors and advertisers.
I invite each and every one of you to come along and be part of this 126th Annual Gundagai Pastoral & Agricultural Show.
Doug McDonnell
President
Some great attractions for the 2017 Gundagai Show:
Unchained BMX – 3 shows at approx 11am, 12.30pm and 2pm
Animal Farm
Face Painter
Wildlife display
Side Show alley
Vintage cars
Cattle/sheep/dog displays
Horse events
See you at the Show!
SCHEDULE details
DOWNLOAD THE FULL 2017 Gundagai Show Schedule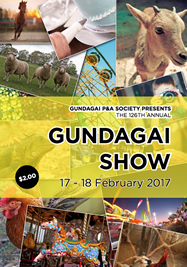 (sections will be added as they come to hand)
See further down page for showjumping
Photography competition 2017 conditions of entry
ENTRY FORM FOR EXHIBITORS:
Section Contact details
Cattle: Leanne McDonnell ph.6944 2969 mob.0427 455 100
Sheep: Joe Scott 0429 220 492
Show jumping: Kathy Blay/Jim Scobie ph.6944 1725
Horses: Jim Scobie 0407 560 998
Stabling: Alana & Dan McDonnell ph.6944 9274 mob.0429 449 274
Team Penning: Dan Lindley ph.6944 9289 mob.0419 626 641
Grounds space: George Elliott ph 0437 441 332
Showjumping
Horse event Entry Form:
Judges to be advised
Horse/animal event Forms:
Animal Handling (Individual) Waiver
Animal Handling (Bulk Indiv School Group) Waiver
SPECIAL FEATURE: Majura the Magician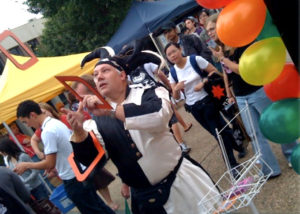 Another treat this year will be the amazing performances of Majura the Magician. He has performed on TV, in theatres and at Floriade and will provide fun for the whole family!
Contact details
Gundagai Pastoral & Agricultural Society
c/- 17 Springflat Drive, Gundagai NSW 2722
Doug McDonnell
0407 891518
Ian Clingan
Ph 02 6944 2232
(mob 0458 009 838)
Email: info@gundagaishow.com.au
Gate admission
Prices shown include GST
1. Adults: $10
2. Each vehicle: $2
3. Pensioners: $3
4. School children under 15yrs: FREE
5. Car Reservations:
Front row $7, second row $4, third row $3
Showground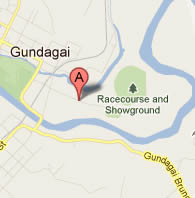 OI Bell Drive Gundagai (view Google Map)
Download a map of the Gundagai showground (pdf)