Show time … be part of it!
The President and Committee of the Gundagai P&A Society would like to thank our many sponsors, big and small, of the 2016 Gundagai Show – in it's 125th year. We would also like to thank the advertisers, whose contributions each year make this schedule possible.
Some great attractions for the 2016 Gundagai Show:
Amiee Breward from Batlow – Musician
Woodchop competition – back after many years
Animal Farm
Face Painter
Wildlife display
Side Show alley
Vintage cars
Cattle/sheep/dog displays
Horse events
Puppet show for the kids
Another highlight of the 2016 Show will be the NSW SHOWJUMPING CHAMPIONSHIP which will be run in conjunction with our show.
The Show Office will be at Gundagai Real Estate Office (in Sheridan Street) on Feb 12 and from 15 – 18 February from 10.00 am to 4.00 pm
See you at the Show!
President: Doug McDonnell
Secretary: Ian Clingan
SCHEDULE details
(sections will be added as they come to hand)
Horse schedule
Showjumping schedule
Art
Australian British Sheep
Caged Birds
Cattle
Farm Produce
Flowers
Food & Cookery
Fruit
Handicrafts
Home Brew
Jams & Jellies
Merino Sheep
Needlework
Photography
Poultry section
Tiny tots
Tiny Tots Stockman Challenge and Open Childrens Events
Tourism Photography Competition
Vegies
Woodchop
Wool

DOWNLOAD THE 2016 GUNDAGAI SHOW SCHEDULE
ENTRY FORM FOR EXHIBITORS:
Entry Form exhibitors
Section Contact details
Cattle: Leanne McDonnell ph.6944 2969 mob.0427 455 100
Sheep: Joe Scott 0429 220 492
Show jumping: Kathy Blay/Jim Scobie ph.6944 1725
Horses: Jim Scobie 0407 560 998
Stabling: Alana & Dan McDonnell ph.6944 9274 mob.0429 449 274
Team Penning: Dan Lindley ph.6944 9289 mob.0419 626 641
Grounds space: George Elliott ph 0437 441 332
Horse event ENtry Form:
Judges to be advised
Horse/animal event Forms:
Animal Handling (Individual) Waiver
Animal Handling (Bulk Indiv School Group) Waiver
SPECIAL FEATURE: NSW COUNTRY SHOWJUMPING CHAMPIONSHIPS
2 Rings over 2 Days 60cm-1.45m
Round of the NSW Amateur series
Junior & Young Rider classes
Entries through Global Entries Online for Jumping and Stabling – www.globalentriesonline.com.au
International FEI Course Designer Hossein Shafiee ….

Hossein designs courses in Asia, Europe, Africa and America in National and International levels during the last 14 years includes his activities as Steward in many national and International events and acting as the Chef d'Equip of IRANIAN Riders in International events (view additional information about Showjumping course designer Hossein Shafiee)
Buy a raffle ticket in our Stallion Raffle @ $25 with your entries to ensure you have a chance at winning a free service to one of our leading Performance Stallions .
Some very generous owners have supplied Services which include BALUGA, QUINCY Z, DYNAMITE BAY, JB EVOLUTION, TULARA COLEMINE, QUINTAGO X 2
SPECIAL FEATURE: Majura the Magician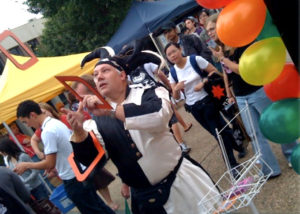 Another treat this year will be the amazing performances of Majura the Magician. He has performed on TV, in theatres and at Floriade and will provide fun for the whole family!
Contact details
Gundagai Pastoral & Agricultural Society
c/- 17 Springflat Drive, Gundagai NSW 2722
Doug McDonnell 
0407 891518
Ian Clingan
Ph 02 6944 2232
(mob 0458 009 838)
Email: info@gundagaishow.com.au
Gate admission
Prices shown include GST
1. Adults: $10
2. Each vehicle: $2
3. Pensioners: $3
4. School children under 15yrs: FREE
5. Car Reservations:
Front row $7, second row $4, third row $3
Showground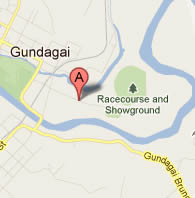 OI Bell Drive Gundagai (view Google Map)
Download a map of the Gundagai showground (pdf)