Show time … be part of it!
The President and Committee of the Gundagai P&A Society invite everyone to our 130th Annual show. There have been many changes to life due to Covid-19. The Gundagai show, our much loved and long running event will also be different for 2021, as it is not possible to hold it in its usual form due to Covid restrictions. Our Committee was unanimous in that if we can put on a show, we should put on a show.
As usual this year's program kicks off on Friday with mainly show jumping. Show jumping at Gundagai is the major Showjumping competition in New South Wales continues until Sunday afternoon. Come and see some of the best riders in Australia competing. It's worth the effort to spend some time watching these events
Please note that entry to the showgrounds on Friday and Sunday is FREE.
Saturday will be a day of fun filled family activities.
We also have Lachie Cossor – Animal wrangler coming to our show in a demonstration which has been described as 'orchestrated chaos'. It is a fun show with some horsemanship, working dog, crowd participation, its educational with a comedy spin on it. It includes Horses, Ponys, Pigs, Dogs, Sheep, a goat and an over sized Bullock, that all have their place in the show.
The Telopea Band, a large school band, that can play pop, rock movie themes etc will be in Gundagai. They can play something for everyone. This youth band tour regularly and usually perform at Canberra Royal Show. Due to the cancellation of Canberra show, it is Gundagai's gain.
We will also be the usual events such as Sheep, Cattle, Horses, Poultry, Pavilion Exhibits, Yard dogs and Sheep Dog Trials, Cattle Dog Trials, Show dogs, Birds, Animal Nursery, Wildlife display, Majura Magician, Face painting, Cartoon portraits, Stalls, Vintage cars, Sideshow alleys, Show Bags and Chainsaw sculptures.
The Annual Show showcases our district and beyond, and we continue to see the very best agricultural exhibits and Community displays on offer.
We are proud of our Annual Show and Community Spirit it generates. The show would not survive without the local community and the generous support from our Members, Sponsors and advertisers.
Schedule sections can be found here on our website.  Members of the public entering any of the many varied schedule sections can lodge their entry, prior to the Show, at the temporary Show Office at Ray White Real Estate, Sheridan Street. The Office will open from 10am to 4pm on Monday 15th Feb. until Thursday 18th Feb. Our thanks to Ray Piper, Mike Kingwill and staff for allowing the use of their offices for that period. See you at the Show!
SCHEDULE details
Due to Covid restrictions it was not clear if we could conduct a Show … however some easing of restrictions have now made it possible.
(see sections below)
See further down page for showjumping and horse events
GROUND SPACE APPLICATION FORM:
Ground Space Application Form 2021 (pdf)
ENTRY FORM FOR EXHIBITORS:
2021
Section events (Any queries contact Ian Clingan 0458 009 838)
Section GP – School Parader 2021
Section H-Sheep Dog Trials 2021
Section J-Australian British Sheep 2021
Section S – Jams & Jellies 2021
Section T – Food & Cookery 2021
Section Contact details
Cattle: Leanne McDonnell ph.6944 2969 mob.0427 455 100
Sheep: Joe Scott 0429 220 492
Show jumping: Kathy Blay/Jim Scobie ph.6944 1725
Show Horses: Jodie 0423 852 500
Stabling: Alana & Dan McDonnell ph.6944 9274 mob.0429 449 274
Team Penning: Dan Lindley ph.6944 9289 mob.0419 626 641
Grounds space: George Elliott ph 0437 441 332
Showjumping
Horse schedule
All hack classes must be entered online at www.globalentriesonline.com
Closing date 5pm 16th FEBRUARY 2021. For assistance with entries please contact Jodie 0423852500 or Global Entries online
Hack classes now have online entries available at www.globalentriesonline.com.au
All entries for ring events must be made online.
Waivers are able to be signed on global entries when creating entries.  All competitors must go to show office to receive wrist band before competing.
PDF map showing layout of Gundagai Showground (partic relating to the position of horse infrastructure)
STABLING & SHAVING
Bookings must be completed online at www.globalentriesonline.com.au
Designated portable yard areas are also available – see showground map
Judges to be advised
Horse/animal event Forms:
130th ANNUAL GUNDAGAI SHOW

Contact details
Gundagai Pastoral & Agricultural Society
c/- 17 Springflat Drive, Gundagai NSW 2722
Paul Luff
02 6944 2232
0419 991 783
Ian Clingan
Ph 02 6944 2232
(mob 0458 009 838)
Email: [email protected]
Gate admission
(no charge for Friday & Sunday)
1. Adults: $10
2. Each vehicle: $2
3. Pensioners: $5
4. School children under 15yrs: FREE
5. Car Reservations:
Front row $7, second row $4, third row $3
Showground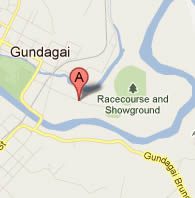 OI Bell Drive Gundagai (view Google Map)
Download a map of the Gundagai showground (pdf)